About Rishi Ayuryoga Center
Our motto "alive and kicking" fully suitable to RishiAyurYoga. Giving a new life to human organs by detoxification is our main aim through Ayurveda and panchakarma. Physically and mentally fit by Therapeutic Yoga and meditation. Our services include Ayurvedic medicines, panchakarma(classical, keraliya), meditation and yoga. we started our centre in Rishikesh since 2005, and now we are serving in india, kazaksthan, Russia and Ukraine.
Having a good knowledge of Ayurveda plays a vital role in curing the organs from diseases and in this aspect our team of doctors having 30+ years of International experience in Ayurveda, panchakrma and pulse diagnosis. For any field of work, experience matters a lot panchakarma includes various treatments like nasya, katitarpan, shirodhara etc, just like panchakarma in Therapeutic Yoga when to exhale and inhale is most focussing step, performing all those task it is required to have good experience in that field. Our massage technicians having 20+ years of international experience and they worked in the special guidance of doctors our Therapeutic Yoga and meditation teachers are trained from organisation of maharishi mahesh yogi "Maharishi was one of the first meditation teachers to encourage modern scientific research to study the impact of meditation on our mind and body, Beatle ashram is famous in Rishikesh for meditation and has direct link with maharishi mahesh yogi. our Doctor V. K srivastav has given his service in Maharishi Ayurveda in India, France and Mauritius.
We believe in quality of service and we never compromise in hospitality, the main aim of our service is to Detoxification which leads to mental and physical natural balance.
Rishikesh, India Location
This villa is situated in the center part of rishikesh, haridwar and dehradun. From this place rishikesh city, Haridwar and dehradun is nearly between 15 to 20kms. The place is known for its nature beauty because every birds which exists in Raja ji national park can be seen in the morning time. The airport is 10kms away. This place have 4 star hotel and restaurant with all modern amenities. The panchakarma centre is build across 1500 sqaure metre area and this place is full of trees like mango, orange, lemon and different types of rose plants
The food which is served during panchakarma and therapeutic yoga is all of organic made and served according to doctors planned diet, so that the person can achieve full health benefits.
For enjoyment purpose the amusement park Fun valley is situated near by it is Aquatic amusement park with water slides, a lazy river & a wave pool, plus classic roller coasters
Doctor
Vidaya (DR.) V.K. Shrivastav
B.A.M.S., D.P.K. (Kerala)
Panchakarma, Pulse Diagnosis
Therapeutic Yoga Specialist
T.M.Teacher (Maharishi Nagar)
Founder of Herbal formula, cosmetics & Herbal cigarette "Herbarrettes"
Practicing in the field of Ayurveda since 1982.
Dr. V.K. Srivastav is well known expert an Ayurvedic Doctor, specialized in Ayurveda, Panchakarma, Pulse diagnosis and Therapeutic Yoga (According to Body constitution, Dosha & Imbalance). At Rishi Ayurveda & Panchakarma centre client comes from all over the world. This centre is famous for Art of Rejuvenation and long life with holistic approach of Ayurveda. This centre offers a verity of therapeutic packages with Rejuvenation and Beauty care programs.
EDUCATIONAL BACKGROUND:
B.A.M.S. (Bachelor of Ayurvedic Medicine & Surgery) Patna
D.P.K. (Diploma in Panchakarma) Kerala
Therapeutic Yoga Specialist According to Body Constitution, Dosha and Imbalance (Traditional)
ulse Diagnosis (Maharishi Ayurveda)
T.M.Teacher (Maharishi Nagar)
EXPERIENCE:
Pass out in 1982 B.A.M.S. 1st Batch from Government Medical College, Patna
cRishi Ayurveda & Panchakarma clinic, Ballia (U.P.) (1982-1992)
Ex. Director and chief Ayurvedic physician at Maharishi Ayurveda R.R.A.C. Department, Maharishi Nagar, Noida, India (1993-1994)
Ex senior physician khosla panchakarma centre (Maharishi Delhi) (1994-1995)
Ex Chief Ayurvedic physician, Maharishi Ayurveda & Panchakarma Center, Rishikesh, India (1995-1998)
Chief Ayurvedic Physician, Maharishi Ayurveda & Panchakarma Center, Mauritius & France (1998-2000)
Ex. Director and chief Ayurvedic physician at Maharishi Ayurveda R.R.A.C. Department, Maharishi Nagar, Noida, India (2000-2002)
Ex Chief Ayurvedic physician, Maharishi Ayurveda & Panchakarma Center, Rishikesh, India (2002-2009)
Director of Rishi Ayurveda & Panchakarma Center, Rishikesh, India (From 2009…….)
Ex. Director of A.M.V.Pharmacy ( I) Pvt. Ltd. Rishikesh, India(Indo-Russian Pharmacy)
Director & chief Ayurvedic Consultant of Ayurveda, Panchakarma & Herbal Cosmetology Center Russia, Kazakhstan & Ukraine
Time to time lecture and seminar on Ayurveda and Herbal Cosmetology in so many countries.
He has given the service in the field of Ayurveda, Panchakarma and Pulse diagnosis in so many countries like France, Mauritius, Russia, Ukraine and Kazakhstan.
SPECIAL FEATURES OF TREATMENT SERVICES:
Acute chronic and degenerated diseases
Ayurveda Herbal- Spondiltis, Infertility, Joint Pain, Cancer, Allergy, Cystitis, Skin Disease, Sciatica, Psoriasis, Diabetes, Liver & Kidney, Isomnia, over Weight, Hormonal, Leucorrhoea, Impotency, Chronic Diseases.
Arthritis, Obesity, Loss of Immune system, Hepatitis, AIDS, Back Pain, Fibrosis, and Impotency (Male & Female)
HERBAL FORMULA DEVELOPED BY DR. V. K. SRIVASTAV:
Herbal Cigarette "Herbarettes" (Useful in bronchial asthma according to clinical report and removing habit of drugs smoking )
Cosmetics (Without chemicals):
Hims Vinas Treat - (Useful in acne, pimples, chronic wounds, Skin allergy, fungus infection, tightness and fiolifting face skin)
Vinas Classic- Dry skin, allergy, wrinkles, glow and smoothness of skin
Vinas Gel- Dry skin, acne, pimples, chronic wounds
Vinas Face Pack- Fiolifting, hypo and hyper pigmentation, rejuvenation, face lifting
Vinas Lotion- Face cleanser smoothly
WHY TO TAKE PANCHAKARMA, PULSE DIAGNOSIS FROM DR. VINOD
Dr. Vinod is highly qualified ayurvedic doctor. He has been giving his service in the field of ayurveda. Panchkarma, Therapy, Yoga, Marma, Pranyogsana since 1982 more than 30 yrs. He has been given his service more than 17 countries including France, Mauritius, Russia, Ukrain, Kazakhistan etc.
He had been worring as a chief ayurretic doctor in world well known as Maharishi Ayurveda from (1993-2010)
He opened first Panchkarma Center in Rishikesh in 1996. That time only one center was in Rishikesh.
Every Technician has experiecne more than 20-25 years.
Manager Niraj Shrivastav
Meditation and Therapeutic Yoga teacher training done from maharishi mahesh organization.
Worked as a Therapeutic Yoga teacher in maharishi mahesh yogi for 4years
Manager at ayurveda bhawan rishikesh for 3 years
manager at Rishi ayur Therapeutic Yoga rishikesh since 2014
Therapists
Mr. Amarnath pal
Mrs. Kiran Gupta
Mr. Ram Bhawan
Mrs. Rani Gupta
Mrs. Ritu Tariyal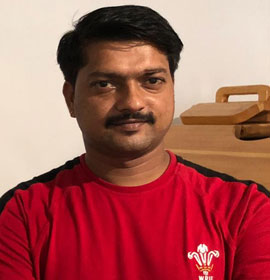 Mr. Vishendra